If you've ever shared a piece of viral art that highlighted the humanity of immigrants, queer youth or other social justice communities, you may already be a fan of Julio Salgado.
As project manager at the national arts organization CultureStrike, Salgado's posters depict key people and moments of the migrant rights movement. His mission "to uplift the work of other undocumented, trans, queer and artists of color" is palpable.
An undocumented, queer "artivist," Salgado is also the co-founder of DreamersAdrift.com, a multimedia platform that reframes narratives about undocumented people through video, art, music, spoken word, and poetry. The platform has also produced two original web series, "Undocumented & Awkward" and "Osito."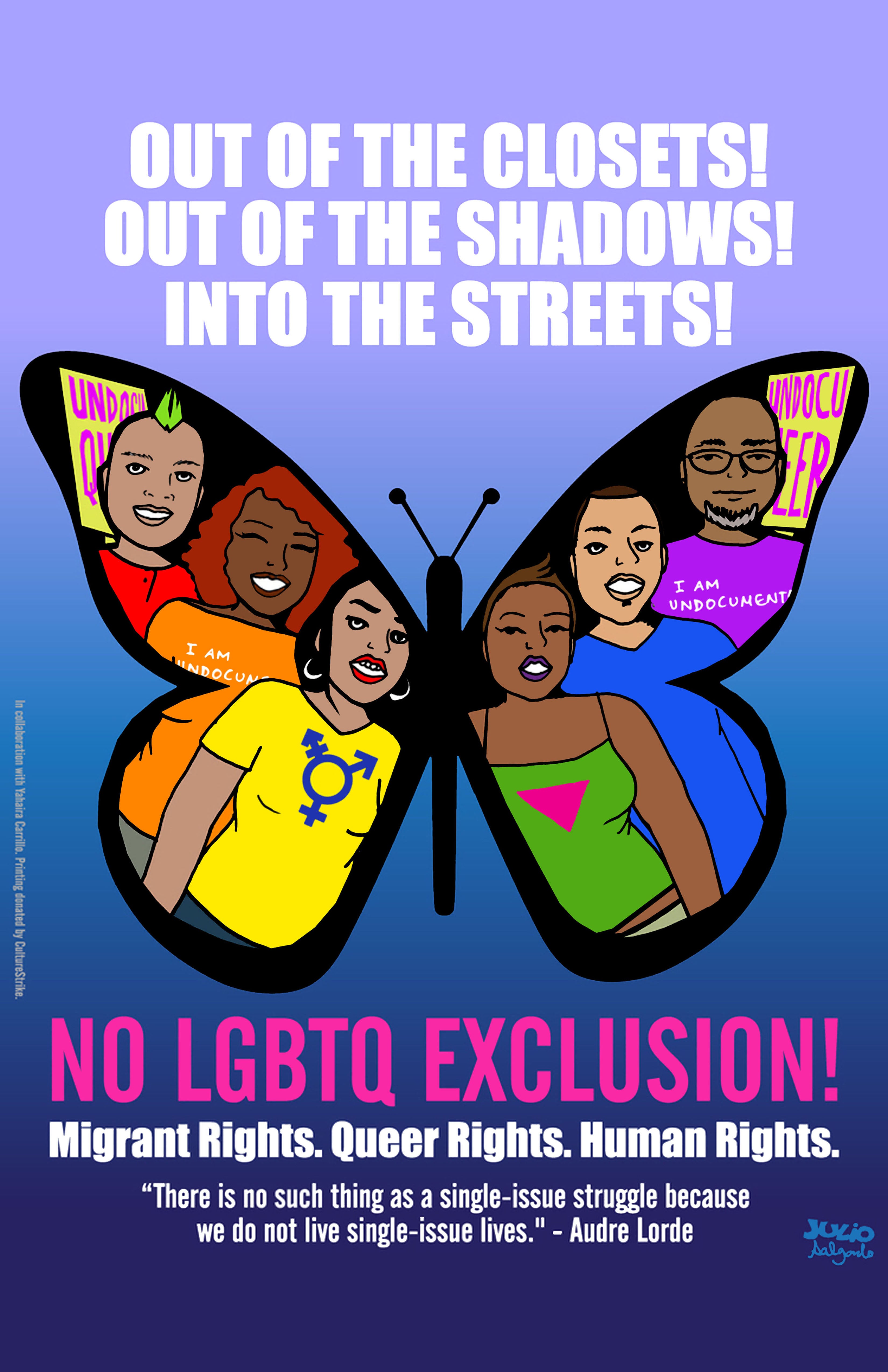 At "Facing Race," the eighth conference of Colorlines' publisher Race Forward, Salgado and co-facilitator Sonia Guinansaca will lead "Visions From the Inside," where attendees will engage with images inspired by letters written by detained immigrants and created by queer, trans, and migrant artists of color. This collaborative project sheds light on the realities of life within for-profit detention facilities, deepens understanding of what prompted letter-writers to migrate, and highlights migrants' resilience. Attendees will have the chance to watercolor some of these images and write back to adults and children in detention.
Here, Salgado tells Colorlines about his vision for using art in pursuit of justice, why your Instagram shoutout can make a real difference to artists, and what he's excited to share at Facing Race:
Can you tell Colorlines readers about your work and your strategies for change at the intersections of racial justice and LGBTQ rights and equality?
In the work that I do with CultureStrike, it is imperative that we collaborate with artists who can relate to the stories we are trying to highlight. It's important to not just include the stories of queer and trans people of color, but to have them be the storytellers. You cannot continue to hire white writers to tell the stories of people of color because you just won't get the lived complexity. I am so excited about folks like Issa Rae who are radically changing this by creating original content and inspiring us to do the same.
What will the community learn from your session at Facing Race?
One of the biggest things that attendees will learn from our session is how to work with artists and folks who are dealing with the for-profit detention system. As an undocumented immigrant who has never been in detention, I could never tell that story. But as an artist, I had to ask myself how to approach the subject without being exploitative of detained migrants' experiences. This meant being intentional in including their feedback throughout the entire process.
What do you consider the biggest challenges to achieving social change in your sector, and how can Colorlines readers make a positive impact?
One of the biggest challenges is to convince folks to invest in the arts. Many times, artists in our communities are asked to create, but we don't ask what resources they need. Next time you see a very touching and powerful image, try to find out who made it and give a shoutout to the artist. It took that artist time to make that image that you're sharing on your social media and that is making a profound impact in your life. Thank you to the folks who shoutout artists already!